Melanie Burns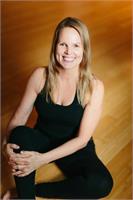 Melanie is a 500 Hour Certified Baptiste Teacher who owns and operates the Snow Squall Bed and Breakfast and Wicked Good Yoga in Wiscasset Maine, and runs Yoga Alliance Approved 200 Hour Yoga Teacher Trainings and 40 Days programs in her studio. She has a BA in Psychology from Clark University and is a graduate of Tom Myers's highly acclaimed Kinesis Myofascial Integration (KMI) program. Melanie offers structural integration sessions and leads workshops in yoga and myofascial release, combining her strong background in psychology and anatomy to bring awareness and awaken healing in long held patterns of physical, mental, and emotional tension and trauma, to lead people to experience more freedom to feel more of themselves in the space they are in.
Melanie Burns instructs the following:
All Hot Power Yoga classes are ALL LEVELS and accessible to everyone. You will leave feeling rinsed and renewed with a new sense of clarity and purpose.




Deep Stretch or Yin yoga is the yoga of the subtle body--it aims to increase flexibility and improve circulation in and lubrication of the joints. As an important balancing element to your vinyasa (yang) practice, in this class you will experience asana practice as a different kind of challenge, holding static poses three to five minutes at a time to allow the muscles to release and the poses to reach into the fascia, tendons and ligaments. You will find your edge in a whole new way, releasing deeply to find your pose and then accept the challenge of going inward to find deep stillness in your physical body and mind as you hold the pose for an extended time, followed by gentle releaseYin yoga cultivates ch'i, or "life force" as the connective tissue we focus on is directly connected to the meridians (the channels in the body through which life force flows). This quiet practice and the awakening of ch'i offer many benefits to health including greater emotional well-being, organ health and improved immune system function. . Yin yoga is especially good preparation for meditation and is suitable for all levels of practice. The studio will be warm but not hot (70-75 degrees) to support the release of muscular tension and ease the body into deep shifts. Please wear layers to allow for changes in body temperature. Yoga Nidra, or guided meditation will complete this deeply healing practice.