Murielle Corwin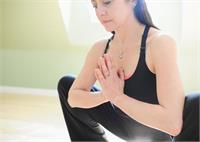 Murielle started her journey as a professional dancer touring nationally and internationally. Her choreographic work has been described by the NY Times as "possessing an extra degree of authority and wit." While living in NYC in the early 90's, Murielle started to search for methods to heal her aching body from various injuries that occurred during her dance career. She took her first yoga class and found it to be a physically challenging and a mentally focused discipline that moved her beyond just a workout.
Since then, Murielle has trained in various styles of yoga and taken two pilgrimages to India to deepen her knowledge and understanding of the practice of yoga.
Murielle is a 500 ERYT, a Certified Movement Analyst from the Laban Institute, a Certified Shiatsu Practitioner and has also studied with Jennifer Reis to teach Divine Sleep Yoga Nidra. Murielle is also truly passionate about the work of Jill Miller " Yoga Tune Up", a form of movement reeducation that strikes a balance between classical yoga, corrective exercise and the use of massage balls.
When Murielle is not teaching or doing yoga she works as an RN in the Critical Care Unit at Midcoast Hospital, where she conducted a successful research study on the effects of Yoga to reduce stress for nurses working in acute care settings. Murielle is committed to integrating ancient wisdom to suit modern times. She offers a class that emphasizes alignment as a doorway to a full-bodied expression of the asana. Through a flowing sequence, gentle adjustment and a nurturing breath, Murielle leads a transformational class that brings serenity through a demanding and balanced practice.
Murielle Corwin is currently not instructing any classes.