Mae Corwin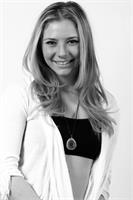 Hailing from NYC, Mae is excited to bring her upbeat, inspired energy to the Wicked Good Yoga community. Growing up in a family of yogis, Mae feels her life has been inspired by the East in many ways. Mae's affinity for yoga first began at 6yrs old at an ashram in Woodstock, NY where she picked up an asana book and began copying complex poses to the bewilderment of onlookers. With a growing interest in holistic health and preventative medicine and a keen eye for movement analysis, she decided to take on yoga as a lifestyle and career. Mae completed her 200hr Vinyasa training in 2011 at Atmananda in Manhattan, followed by her 500hr Hatha training in 2014, which she completed while traveling South India. Mae's class will lead you on a yogic voyage through controlled breathwork, mindful meditation, innovative sun salutations and creatively sequenced standing poses, arm balances, backbends, and inversions. Mae's presence welcomes both novice and advanced practitioners and invites students to express questions or concerns regarding their continued practice. With immense gratitude for her gurus on and off the mat, she would like to share this ancient practice with her students.
Mae Corwin instructs the following:
Celebrate the day, celebrate yourself. We'll begin slow and steady, dropping into our bodies, our joints, connecting with our thankful and celebratory heart. Then we'll step it up a bit-inviting inner heat, inner fire, readying our bodies for digestion and for taking only what we need-and loving every moment of it. We'll take our gratitude, our center, our inner fire and breathe into it, moving back into a deep seated (and deeply-seeded) yin practice. We'll go from being to doing to finding balance-a little peace in the busiest of celebratory seasons.