Ericka Fairfield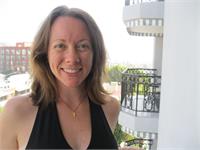 Ericka is a Maine native deeply rooted in the full expression of a healthy, vibant life, with a rich career including time a licensed Maine whitewater rafting guide, professional trail worker for the Appalachian Mountain Club in NH, traveling across the globe, African dance, running, Pilates, cycling, competing in triathlons, two treks across Maine on her road bike, and a career in Nursing. This rich path and her deep love for a physical and spiritual connection lead her naturally to yoga.
Ericka has been practicing yoga for over ten years, trying many different styles. When Ericka found Baptiste yoga at Wicked Good Yoga studio in Maine she found she deepened not only her physical connection with vinyasa and practice, but her spiritual connection with herself and others through meditation and self-reflection. Her connection continues to grow and strengthen in her own practice independently and by the support of the yoga community here in Maine. Immediately she wanted to share this new physical and spiritual connection with everyone! Ericka will complete her 200 hour Yoga Alliance approved yoga teacher training throughWGY in February of 2014. Come and experience her love and connection in a yoga class that will inspire you to live out loud from your nose to your toes!
Ericka Fairfield instructs the following:
All Hot Power Yoga classes are ALL LEVELS and accessible to everyone. You will leave feeling rinsed and renewed with a new sense of clarity and purpose.