Susan Sproul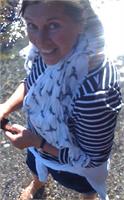 Susan has practiced various forms of yoga since the 1970's. After
raising five children she earned her certification as a yoga teacher
at Namaste Institute School of Yoga. Susan teaches Restorative and Pre
Natal yoga bringing to both her classes and her private students what
she believes is an atmosphere of trust and safety helping them to
realize what Joseph Campbell penned: "The privelege of a lifetime is
being who you are." Susan brings with her a quality of nurturance that
she feels has been enhanced by her backgroud and degrees in Sociology
and Communications as well as workshops in Thai massage and
Acupressure.
Susan Sproul instructs the following:
Yin yoga is the yoga of the subtle body--it aims to increase flexibility and improve circulation in and lubrication of the joints. As an important balancing element to your vinyasa (yang) practice, in this class you will experience asana practice as a different kind of challenge, holding static poses three to five minutes at a time to allow the muscles to release and the poses to reach into the fascia, tendons and ligaments. You will find your edge in a whole new way, releasing deeply to find your pose and then accept the challenge of going inward to find deep stillness in your physical body and mind as you hold the pose for an extended time, followed by gentle release. Yin yoga cultivates ch'i, or "life force" as the connective tissue we focus on is directly connected to the meridians (the channels in the body through which life force flows). This quiet practice and the awakening of ch'i offer many benefits to health including greater emotional well-being, organ health and improved immune system function. Yin yoga is especially good preparation for meditation and is suitable for all levels of practice. The studio will be comfortably warm but not hot (@70' degrees) to support the release of muscular tension and ease the body into deep shifts. Please wear layers to allow for changes in body temperature.