Daphne White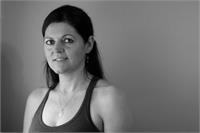 People come to yoga for many reasons. Some to heal a physical injury, some to find a gentler form of exercise and others come to find inner calm. Daphne, who found yoga for all these reasons, teaches a heated vinyasa flow that is sure to meet you where you are and encourage you to explore new aspects of your yoga practice. If you are new to yoga, she is excited to share what has become a deep passion and commitment to wellness.
Daphne earned her WGY 200 hour Teacher Training and is a registered Yoga Alliance teacher.She can't wait to share and guide you through an invigorating and healing class where you are sure to find new vitality and balance.
Daphne White instructs the following:
This class includes Yoga Tune Up myofascial release and sequences designed to awaken and bring awareness to body blind spots, building strength and flexibility in preparation for vinyasa, followed by a rigorous morning Baptiste hot power vinyasa practice. You will leave feeling invigorated and renewed, inspired and ready for your day.




Baptiste inspired Power Vinyasa Yoga Class ideal for beginners and/or advanced students. Vigorous heart pumping vinyasa flow moving on breath from one pose to the other. Please hydrate before and after class. Class is in a room heated to 90' with 60' humidity, with a bamboo wood floor.