Amy Jirsa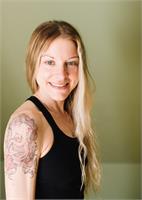 Amy's first love is cultivating, educating, and cheering on those who wish to be ambassadors of change, of awareness, of yoga. Her interests lie in Ashtanga Yoga, Sanskrit, and Vedic philosophy. She's a bookworm and an earthworm whose steady practice has kept her grounded since 2001. Amy is an ERYT-500, writer, photographer, wanderer, and inveterate lover of rainy days, mystery novels, early mornings, and a fierce yoga practice.
Amy Jirsa instructs the following:
"Gratitude unlocks the fullness of life. It turns what we have into enough, and more. It turns denial into acceptance, chaos to order, confusion to clarity." Melody Beattie

Thanksgiving Yin & Vin: Celebrate the day, celebrate yourself. We'll begin slow and steady, dropping into our bodies, our joints, connecting with our thankful and celebratory heart. Then we'll step it up a bit—inviting inner heat, inner fire, readying our bodies for digestion and for taking only what we need—and loving every moment of it. We'll take our gratitude, our center, our inner fire and breathe into it, moving back into a deep seated (and deeply-seeded) yin practice. We'll go from being to doing to finding balance—a little peace in the busiest of celebratory days.

This class is free to members, $14 drop in. Donations will be made to the Good Shepherd Food Bank




Day after Thanksgiving Turkey Burner

Move your body in community in this heart pumping vinyasa flow - warm but not hot - with the amazing Amy Jirsa Holt!