Elizabeth Weston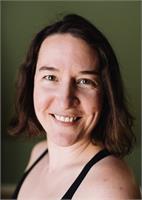 After many years of using longs legs as an excuse for not touching her toes, Elizabeth signed up for a Kripalu yoga class in 2009. Physical flexibility turned out to be only one of many benefits that unfolded through her practice. A few years later her chiropractor suggested heated yoga, and she discovered the Wicked Good Yoga studio in Wiscasset, Maine and quickly embraced the energetic and cleansing nature of Baptiste power vinyasa yoga. A Maine native, Elizabeth is a huge fan (and proponent!) of early morning yoga and her consistent practice continues to be both grounding and groundbreaking. She is an RYT 200, having completed her training at WGY in April 2016, and hopes to ignite a sense of passion and playfulness in her students.
Elizabeth Weston instructs the following:
Baptiste Hot Power Vinyasa yoga - intelligent sequencing to take joints into full range of motion and encourage strength and flexibility, this class is done in a room heated to 90' and 60' humidity. This is an all levels class suitable for beginners and experience students. Bring water and a towel, be prepared to rinse out and leave rejuvenated and renewed body mind and spirit.




All Hot Power Yoga classes are ALL LEVELS and accessible to everyone. You will leave feeling rinsed and renewed with a new sense of clarity and purpose.