Shannon Cawley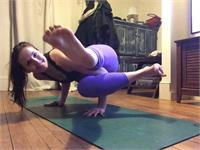 Shannon Cawley instructs the following:
Hot power vinyasa yoga. This is a flowing class linking breath to movement. This is a 60 minute all levels class following the Baptiste Journey into Power sequence, including Sun Salutations A&B, Warrior I, II, Crescent Lunge, Standing Balances, Twists, Backbends, Abdominals, Hip openers, and inversions followed by Savasana. Please hydrate before and after class, please refrain from wearing perfume or cologne. We have mats and towels available if needed.




Baptiste Hot Power Vinyasa yoga - intelligent sequencing to take joints into full range of motion and encourage strength and flexibility, this class is done in a room heated to 90' and 60' humidity. This is an all levels class suitable for beginners and experience students. Bring water and a towel, be prepared to rinse out and leave rejuvenated and renewed body mind and spirit.