Tamara Dolloff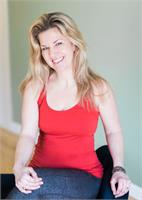 Tamara is a graduate of Wicked Good Yoga's 200 hour Vinyasa teacher training. Tamara is also a Registered Nurse and has extensive experience in the field of health and wellness. Tamara's journey into yoga began over 10 years ago. She discovered that yoga was the one thing that provided relief from debilitating chronic pain resulting from three back surgeries, including a spinal fusion. She found yoga helped heal the disconnect between her mind and body. However, a few years later, a failed chiropractic "adjustment" resulted in unbearable hip and back pain. It turned out to be a torn Labrum and over the course of three years, two additional surgeries were needed to reconstruct her hip joint. Tamara would not give up. Through her dedication to daily yoga practice and continuous search for knowledge of how to heal her body, she was able to regain most of what had been lost. Yoga has taught her that suffering is optional and her own path to healing has inspired her to lead others on their path into well-being. Tamara's teaching includes a variety of classes including; Baptiste Vinyasa Flow, Slow Flow, and YIN. Through the use of intelligent sequencing and proper alignment, she is able to adapt yoga for individual needs. Tamara is passionate about working with people to find a balance between effort and ease. Her caring and supportive manner makes her class a safe place to start your journey and deepen your yoga practice. Tamara was born and raised in Boothbay Harbor. She now lives in Newcastle, with her husband and two teenage sons.
Tamara Dolloff instructs the following:
This class is a slower paced, thoughtful sequence designed to focus on alignment and moving through the sequence in a calm and embodied pace. This class will not be heated.




Gentle hatha yoga practice with a compassionate approach practiced to assist physical and spiritual growth that overflows into daily life. Each student should find their own level of practice on any given day by looking inward.

This yoga style will appeal to those who want to work on themselves, both physically and spiritually. The gentle and individualized approach make it a good choice for students who can benefit from an adaptive practice.




Slow Flow Vinyasa Yoga classes are ALL LEVELS and accessible to everyone. You will leave feeling rinsed and renewed with a new sense of clarity and purpose.